The Woodards Charitable Foundation has a clear commitment to support programs that assist the homeless, in particular families, to find a safe place to live. Working in collaborative, creative and innovative ways, our Foundation thinks, involves and connects with our community to reach our objectives.
The purchase of a home which is being used as transitional housing for families in need is one such initiative. Through the hard work of our staff, we are also able to offer support to charitable groups and individuals in our local communities.
We will keep buzzing along in our efforts to change lives. Every donation, every cent, no matter how small, assists and supports our efforts.
If you would like to support the Woodards Charitable Foundation, please click here.
All donations over $2 are fully tax deductible.
How Woodards are helping in the community

With the purchase of a home in St Albans, we are able to provide transitional housing for women and children who are homeless or have experienced family violence. Emergency accommodation is coordinated through the McAuley Community Services for Women who support and shelter over 600 women and children each year.
A very generous landlord of Woodards also recently 'loaned' McAuley Community Services for Women a vacant property for 12 months to assist a young family. With support from Camberwell Electrics and Bed Bath & Table this young family are now in safe accommodation and planning their future.

The staff at Woodards Carlton have built a partnership with The Wingate Avenue Community Food Welfare Program who work in conjunction with Foodbank Victoria and Second Bite providing a variety of fresh fruit and vegetables to the students involved in Wingate's education classes and public housing tenants. Our team assist in unloading and distributing a van of donated delicacies from Foodbank Victoria to those in need.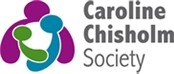 Staff at Woodards Camberwell office purchased over $2,000 worth of toys and games that were delivered to Caroline Chisholm Society to distribute to their clients last Christmas. We imagine there were some bright eyes and excited squeals when the paper was torn and the gifts revealed!
Donations to 'Çoats for Kids', the purchase of multiple sets of linen and bedding to assist families when setting up home, purchasing and donating nappies, food hampers and more, are part of how our staff respond to areas of need.