The only constant in life is change. To be able to confidently navigate uncertain times, we need to look beyond the data and gain insights into the drivers behind the numbers.
Everyone is tired of hearing about the shapes of different graphs, some curves we want flattened, while others we hoped would turn V-shaped.
The 9.5% increase in the median price in metro Melbourne is a welcome reminder of just how quickly things can change. A look at the REIV Residential House Index below shows just how V-shaped a recovery can be and how resilient the Australian property market is. As we can see, prices in the housing market have increased substantially, with the sharp spike upwards triggered by the "First Step" in Victoria's Roadmap to Recovery, back on 13 September 2020. It didn't take long for the market to resume and both sales activity and prices to increase. This growth has continued into 2021 and there is no doubt that the housing market is hot, but what about those other lines below?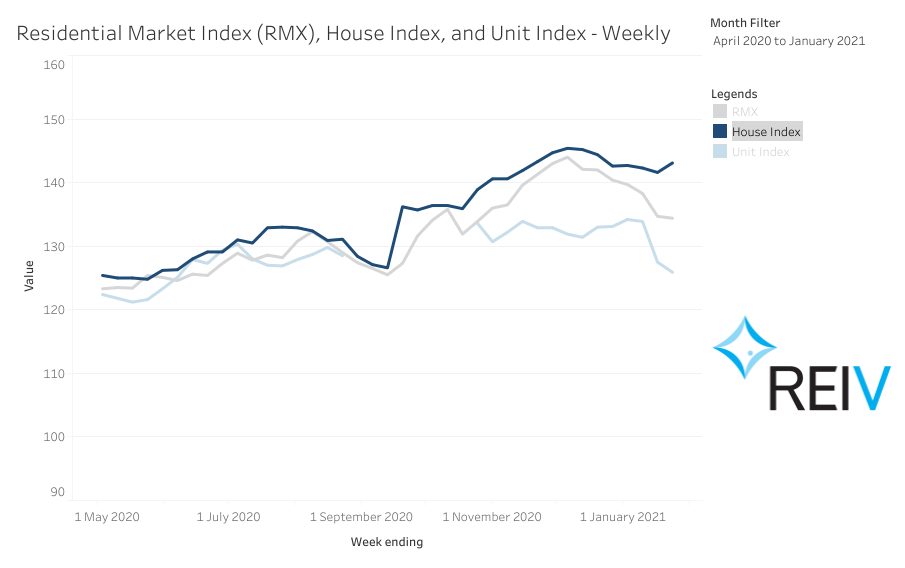 While the housing market is firing on all cylinders, unfortunately the same cannot be said for the apartment market. As shown by the below, there wasn't enough sales to report any data during the second lockdown period in Melbourne, and while the housing market has soared, units appear to be going in the other direction – so why is the property market so segmented?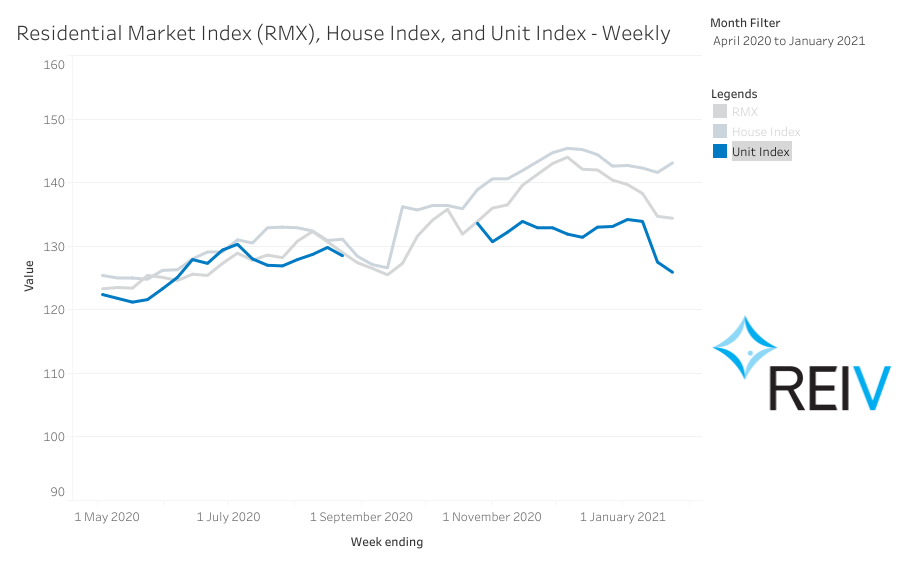 If we distil all the factors driving the market into two categories; supply and demand, it might give us some insight into what is going on. So, on the supply side we have the volume apartments increasing substantially since 2012, more than five years of huge increases in apartment numbers up until 2018. This increase in the number of apartments had been absorbed largely by local and foreign investors, as well as some first home buyers and young professionals (or as the agents call them: 'owner occupiers').
In 2020/2021, demand from these groups has changed significantly, and quickly. First home buyers and young professionals are looking for a backyard, the country, or the coast. Local investors looking for a solid and safe return are seeing vacancy rates soaring.
There are roughly 250,000 Foreign Students that come to study at world-class universities in Melbourne that are stuck at home. The one shining light may be that given how well Melbourne has dealt with the lockdown, Foreign Investors may return as they appreciate the world's most liveable city once again (and yes, I am a born-and-bred, and biased, Melbournian).
Unfortunately, in recent time, Australia has not been as inviting to Foreign Investment, just as one example: the increase in Foreign Purchasers addition stamp duty from 0% before July 2015 to now 8% after July 2019. Based on the current median house price in Victoria, that equates to an extra $73,120. The Foreign Investment Review Board reports data on the volume of properties purchased by, unsurprisingly, Foreign Investors.
The data below compares the number of properties purchased between the 2018 and 2019 financial year, with those bought between 2017 and 2018. It is no surprise that as the cost of purchasing property for foreign investors has increased, the demand has substantially decreased.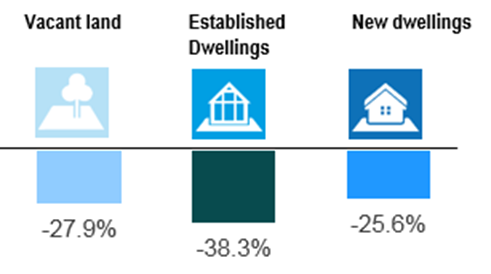 So, while one key driver is the flight from highly populated inner-city areas and a move to the regions, there are multiple factors at play. To be too reliant on foreign investment of course is not a good thing, but we also can't ignore one of the fundamental realities that underpins the demand in some segments of our property market. By incentivising better apartments, better building and more owner-occupier focused development, we could future-proof the market while creating incredible places to live for everyone. What seems clear is that until a plan for the return of foreign students in Melbourne is successfully executed, the apartment market will faulter.
With the housing market hot and apartments cold, what does this mean for 2021 and how can you make sure you are ready for anything? It is important to get tailored advice based on your particular situation, but here are some tips for the new year. All this advice is general in nature and does not take into account your objectives, financial situation or needs. You should consider whether the advice is suitable for you and your personal circumstances and get in touch with Woodards so we can tailor a strategy for you.
Upsizing
If you are thinking of an upsize or upgrade, consider buying first if you can. While interest rates are so low, in a rising market you may be able to buy as things are on the up, and sell at the peak. While timing the market is extremely difficult, this also ensures you know exactly where you are going (and when), which is welcome certainty in uncertain times with a growing family.
Downsizing
While the apartment market is struggling overall, quality apartments and options for downsizers (particularly in the inner-city) are rare. The most important thing when downsizing is that you end up in an area and with a property that you absolutely, wholeheartedly love. This could be the biggest (and best) move of your life, so take your time in working out where you want to be, and why. The housing market will continue to increase for at least the first part of 2021 and beyond, so selling should be the easy part.
First Home Buying
The sooner the better. Getting into the property market is always going to be expensive, and the market won't be dipping enough to make holding off worth the risk. When the property market drops, it usually isn't for long (during the second lockdown it dipped for a total of four weeks). Finding the right property is more important than the right market. Having a quality home or apartment will set you up for a bright future, so focus on educating yourself in what a great property looks like. If you are looking at apartments, it is a great time to buy one, just make sure you get one with "owner occupier appeal." What does that mean? Think larger spaces, natural light, balconies and/or courtyards and parking. Most of these things you will find are more common in older-style apartments, so it is a good place to start.
Investing
Zig when others are zagging, while the apartment market is subdued, it follows that it is a great time to be looking for quality apartments. If you are looking in the inner-city, can afford to hold a vacancy if you get the right deal, why not dip your toes in the water and see what is on offer? One thing is for sure, the lack of property investment locally won't be a long-term trend: Aussies love property too much.
Country and Coast
Buying or selling? If you are selling, this will be as good a time as any to cash in whether you are in the country or the coast. Just as one example; the median price in Mornington has increased 27% from $822,000 to $1,050,000 since late 2019. If you are looking at buying, I would hold off, at least for a few months. While I truly believe the shift to coastal and regional areas is a long-term trend, it just seems to be far too hot to be in the mix right now. I could be wrong, but competition may die down as people return to work and you might get a better deal mid-year.