If it were easy to pick the bottom of the market, there would be no bottom. People would all be waiting to purchase all at the same time, there would be a spike in competition and an upwards pressure on prices; no more dip, no more bottom of the market. The opposite is also true; if it were easy to pick the peak of the market, sellers would all be waiting until the same time to sell, this would lead to a huge dump of supply all at the same time, and there you go: no more peak.
So, how do you plan for a better future for you and your family without being able to pick exactly when the market is about to peak or is in a trough? Is it possible, and has it begun in Melbourne?
We can tell you what is really happening on the ground because we spend our days talking to buyers, sellers, tenants and investors, all day, every day. One of the difficulties in collecting information about what is happening right now, is that the only solid, verified data available is for what has already transpired. The most reputable data sources, like the REIV Residential Market Index, RP Data by Corelogic and Property Data Online all report sales in the past. The data available that precedes sales prices is slippery at best. There are some attempts to provide more real-time data, and even some to discover metrics that can reliably predict changes in property prices, but no one has cracked the code just yet. Even seemingly intelligent attempts, like Corelogic's prelisting activity and mortgage activity, can't reliably predict what vast numbers of buyers in very different situations will be willing to pay for properties in a few weeks time. What we can do is collect all the data possible from multiple sources and filter it through the lens of experts in the field to come to an educated guess as to what might happen. So first, let's look backwards, to know where we have come from, before we leap into the future for a prediction of what is to come.
As you can see by the below, since 2013 property prices have increased substantially, the top line is the "Metro House" line, which you can see has dipped precipitously in 2020. While it appears from this graph that no rebound has begun, we need to keep in mind that this data only takes us up until the end of the third quarter of 2020 – the end of September.
One equally critical period of time for our purposes was the latter part of 2019 and the first part of 2020. It is obvious from the data that the market was firing on all cylinders before the pandemic began. As things continue to open up over summer, there is a strong argument from many that the rebound will be substantial and swift, a quick upwards spike in both the volume of property and the prices achieved.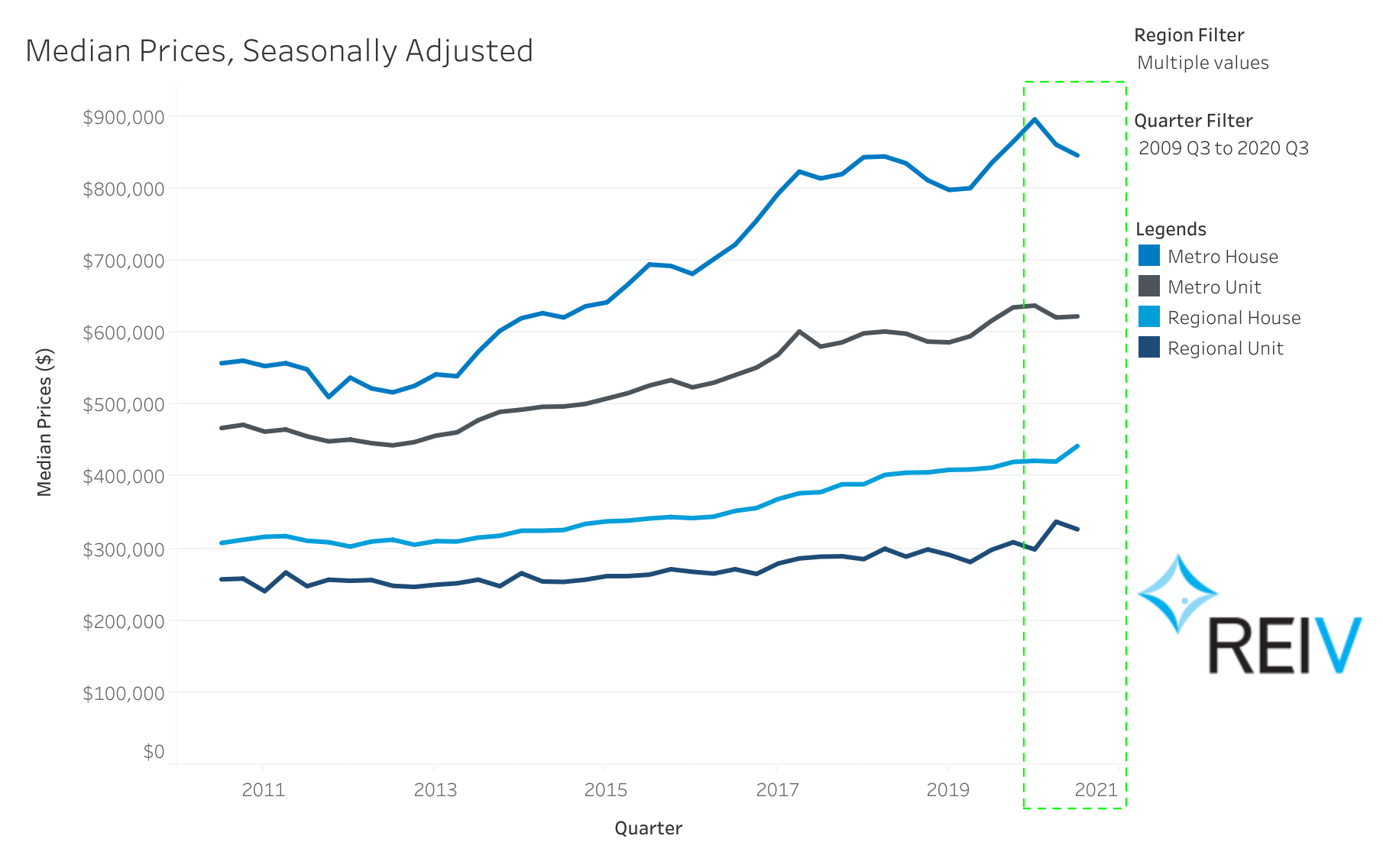 While the above is the most qualified data as it only relates to confirmed, settled property sales, in order to get a more real-time view, we need to look at the REIV Residential Market Index (RMX). The RMX is a residential property price index designed to provide a more current insight into price trends. It measures the price change of the stock of residential dwellings over time.
As you can see below, since mid-September, the RMX has increased over 14 points, which indicates that the rebound has, in fact, begun. With each of these data sets, we are building a picture of what is happening in the property market. Looking back, prices were increasing and consumer sentiment was improving with it. If we zoom in, we can see through the RMX that the rebound has begun.
Before we dive into some stories from on the ground, it is also worth looking at the number of days it takes from when a property is advertised until when it is sold. While usually very consistent numbers, as with all things in 2020, things were a little different this year. It took longer to sell properties during the lockdowns (particularly the second), but as you can see by the below, just as quickly as the 'Days on Market' increased, the numbers have dropped back down to below even previous levels. At 25 days, the amount of time it takes to sell a property is at the lowest it has been in the last twelve months.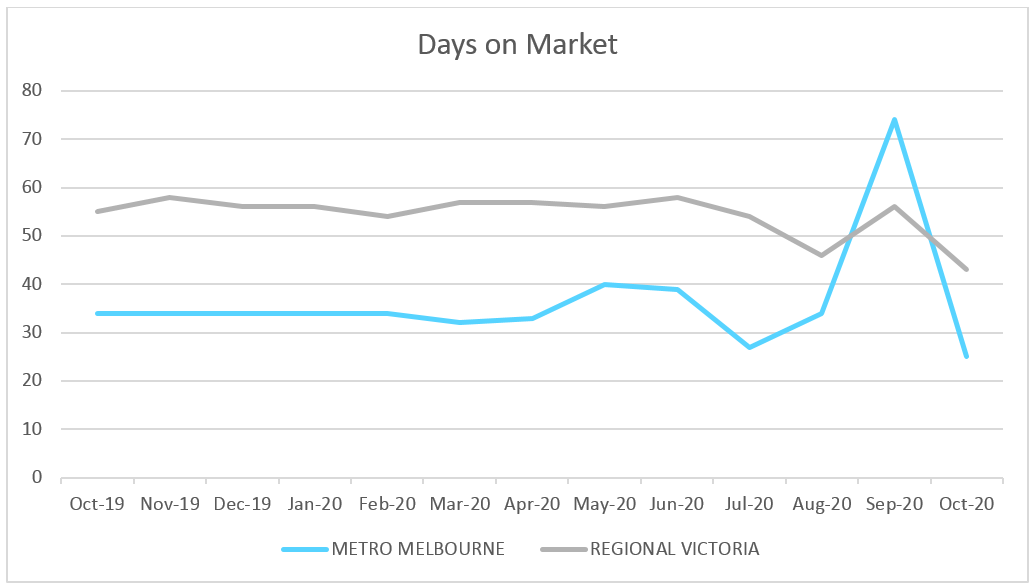 But what is happening live, on the ground, at all those inspections and in all those sales? All of the above information is broad, market averages and retrospective; a little dated, a consequence of the trade-off between accuracy and speed of delivery. The only way to truly know what is happening in a given area is to be on the ground, speaking to people at inspections and actually buying and selling properties in those areas. Along with synthesizing the best available data, we'll now hear stories from around the grounds, what agents and people actually active in the market are seeing and what it means we can expect for the next six months.
On the ground
As always, the market is highly segmented in many ways. When you read or hear the term 'highly segmented,' all it means is that how the market is going depends on the property or your situation more specifically. Whether it is the type of housing, the type of buyers or sellers in that marketplace or the geographical area, there are plenty of variables that can 'segment' the market. For example, between 2013 and 2019, there were far more investors buying property in Melbourne's inner-city. Property prices were on an upswing, the rental market was strong and during this relatively prosperous time, property was seen as a great place to invest (it still is, but the numbers and risk profile have changed in the short-term). Now, there are far more owner-occupiers competing for properties that previously would have attracted more investors. For example, we have shown 33 buyers through a two bedroom apartment in Carlton, on Melbourne's city fringe – 32 of them are owner-occupiers.
We have also seen results vary through the Melbourne metro area, with quality family homes still selling well (and always will), while properties that might not be as desirable really struggling. That's another problem in Real Estate, especially in sales; there are so many variables; you don't get to sell the same house twice under the same conditions and with the same buyers in the market.
There is some good news though: we just had the opportunity to do just that. One of our agents sold the same house twice in within eighteen months. The property wasn't renovated in-between, so importantly the house is the same, while the market is much different. The property is a great example of how the market has performed recently, and it is incredible just how resilient property prices in Melbourne are.
The first time we sold the property, in mid-2019, it sold for $985,000. The second time, in late-2020, you may not believe me, but it sold for $1,102,000. The same property, but a much different price; $117,000 different to be precise. That's just one example from a sea of results that are continuing to indicate a positive trajectory in property prices.
As you can see from the first graph above, the median price data, property prices rarely dip, and when they do, it isn't for long. We have already seen that dip and the property market was starting to heat up already, before the dip began. Now the time has come for sellers and buyers alike to get moving, as things improve and we can be even more mobile than before.
Initially we thought the best market conditions would be in Spring, but with further lockdowns and delays, it is now apparent that this positive market trend will be interrupted (briefly) once again by Christmas. Summer is going to be a little different this year, without international travel and after a tough year for most, people in property are ready to continue to work right through January. No more waiting until Australia Day for the Auction Market to kick-off, this year we will see far higher volumes of listings right after Boxing Day. Families will be looking to set up for 2021 with a safe place to call home, with a study and a backyard for the kids. Investors will be looking to cash-in for safety, or take advantage of the more reasonable prices for quality apartments.
Speaking of apartments, we also get asked alot about the rental market, and with good reason: it won't be long before more people will be renting, than owning a home. As shown by the below data from the ABS, more people are renting properties than ever before, with home-ownership relatively flat. As property investors look to take their chances in a less competitive market, what does the data show?
Speaking of apartments, we also get asked alot about the rental market, and with good reason: it won't be long before more people will be renting, than owning a home. As shown by the below data from the ABS, more people are renting properties than ever before, with home-ownership relatively flat. As property investors look to take their chances in a less competitive market, what does the data show?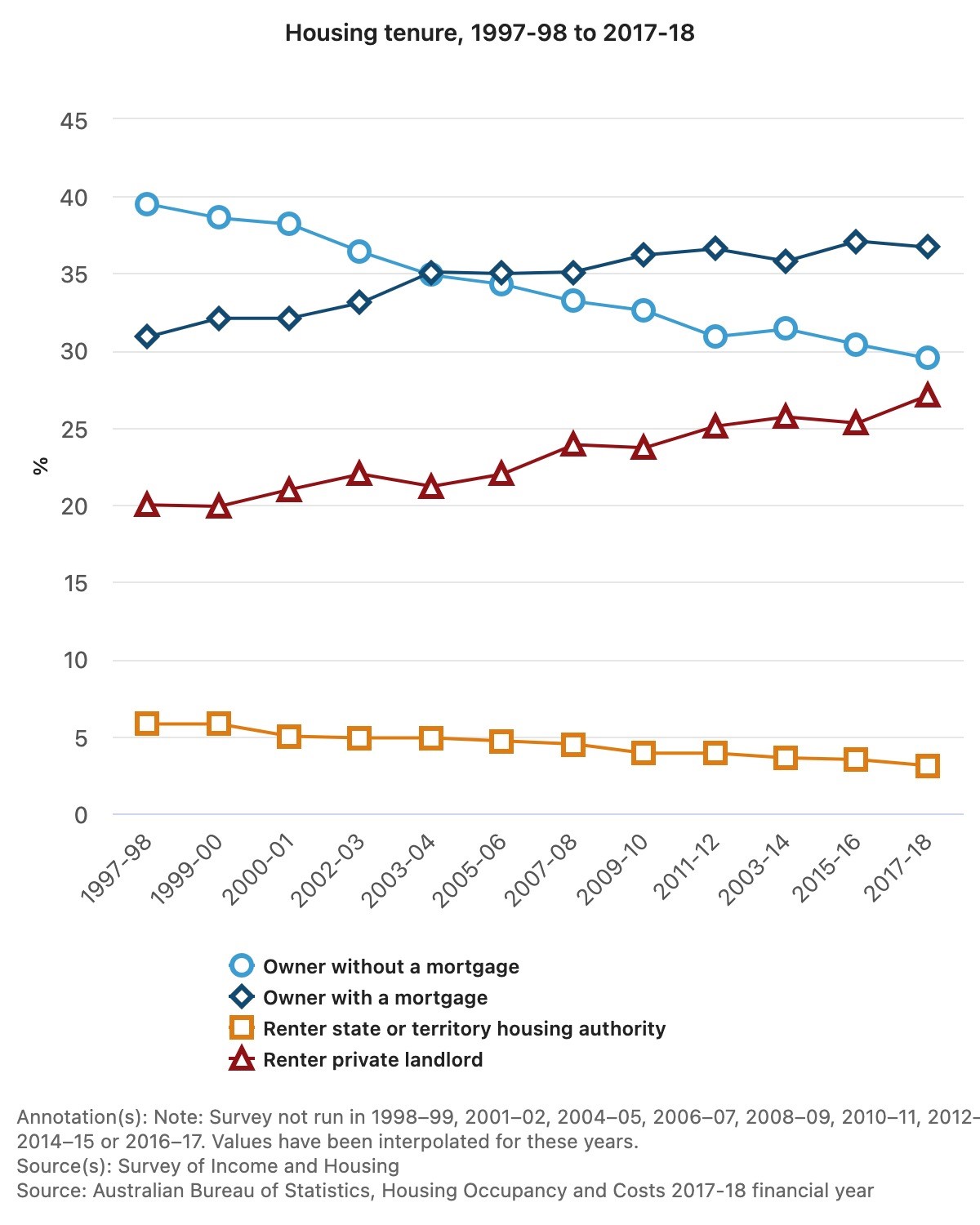 One clear and concerning trend in the rental market has been the increase in vacant properties, an obvious by-product of the pandemic, due to a myriad of factors. Over a quarter of a million foreign students haven't been in Melbourne's inner suburbs around the University precincts and, as share-houses become less popular during a pandemic, younger people who can, have moved back in with mum and dad.
As shown by the below summary of Vacancy Rates in Melbourne, the closer to the city you are, the higher the vacancy rate (and the sharper the increase). This is supported by the conversations I have had with Property Managers in both Residential and Commercial Real Estate; it is tough to lease properties and tenants have far more choice. Until this trend levels off and the tide turns back towards a more positive environment for investors to lease properties quickly and at higher rents, we are likely to see a property market underpinned by owner-occupiers.
The Victorian State Government is of course already planning for the return of Foreign Students in 2021, which will also make a huge difference to those inner-city markets. What it means for property owners is that high quality, targeted marketing material and incentives for tenants are critical to securing the right people, at least for the next six to twelve months. Properties that aren't well maintained or don't have the right amenity will sit vacant, while landlords that are active and updating their offering to tenants will flourish.
With such a low interest rate environment, clients of Woodards can also take advantage of financing options to amortise the cost of these renovations over time, and take them out of the rent over a longer period. Being strategic, thinking differently and expecting more from your property and your agents is critical to ensuring financial security during this tougher time.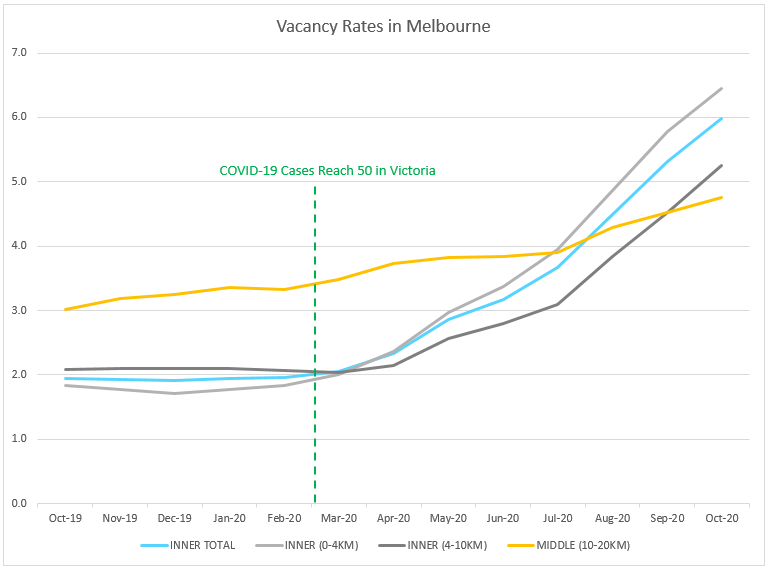 The short story: the rental market is looking good for tenants and housing affordability and tough for landlords and agents that sit on their hands, while the next six months looks like a great time to sell for those in the right market segment (with the right properties and the right target market). Everyone is updating their forecasts in a positive way, from the Government, to the banks, to the IMF. Just as one example, Matt Comyn, CEO at CBA, reported recently that they have updated their unemployment projection down to 5.45% for next year – while potentially optimistic, this would be an incredibly positive outcome as we see the other side of the pandemic. The reduction of unemployment is a critical catalyst for wage growth and increased spending which could drive our economy.
We will stop short of suggesting what will happen after March 2021, but one thing is for sure; between now and then, those who show initiative and act on a carefully thought out strategy will prosper. There will be more volatility, as external shocks to the market system like further outbreaks halt steady progress. The media will no doubt be even more volatile than the market. Those with a steady approach and the right long-term strategy will do well, while those that do nothing may miss out, and as always, property in Australia is a fantastic long-term investment. As things shift, make sure you are a step ahead by continuing to educate yourself, do your due diligence thoroughly and find the right local advisors to guide you through the process.