I dislike the word landlord. Maybe one day (a long, long time ago) it would have been a good thing to be a lord of the land, but I believe those days are behind us. The word landlord carries such negative connotations, immediately bringing to mind a picture of someone who is very far removed from your average property investor. You might, like I, be picturing a selfish money-hungry villain; more slumlord than landlord. The problem with this stereotype is that it has driven us to a point where owning investment properties will become harder and harder.
There are new rules which take effect on the 29th of March 2021 (with the uninspired name: the Residential Tenancies Amendment Act), which are poorly timed and may not have a positive impact on the Melbourne rental market. Coupled with the impacts of the pandemic, the sand is shifting beneath all our feet: Landlords, tenants and property managers alike. It is interesting how we categorise people in this way, when the reality is far more complicated (it is worth pointing out that some people can be all three of these categories at once).
For a summary of the changes, you can find more information here. Interestingly, the word landlord is harder to find in this summary than you would think; replaced with the phrase 'rental providers.' One thing is clear, these changes will increase the cost, both in time and money, of managing investment properties. So, what do these changes mean for us all, and how is this shifting market going to settle (if at all) in 2021?
First things first, a couple of caveats, this article relates to inner Melbourne and should be read as general advice only. We have experts in property management who are ready to tailor solutions to your individual needs and situation. For now, this brief should prepare you for a more prosperous 2021 and give you some solid ideas about what is driving the property market in Melbourne right now.
Bad news out of the way first: as shown by the below, the vacancy rates in inner Melbourne have jumped from their usual steady 2% to over 7% in the last twelve months. The vacancy rate is a measure (you guessed it) of how many properties are vacant in a given market. In high-demand areas with lots of tenants and not enough properties, this rate is usually around 1-2.5%. Inner Melbourne is usually firmly within this category, but now the demand for rental properties has dropped precipitously. What this means is that tenants have far more choice, are moving more to find better properties at lower prices and have far more power when negotiating any matter with a landlord.
Many property investors are at a stage in their lives where selling is looking more attractive than dealing with the myriad issues that will now come with managing a tenancy. There are 132 new rules coming into effect in just under 60 days, and 120 are new obligations for landlords. It would be no surprise to see Mum and Dad investors either attempting to increase the rent to account for extra money and time it is taking them to fulfil these obligations, or exiting the rental market entirely.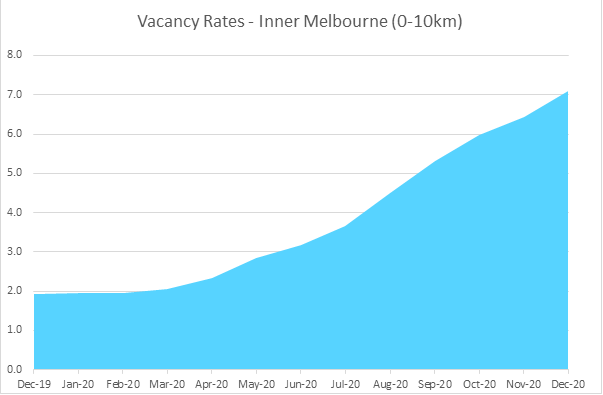 This will put more downwards pressure on rents, making it even less attractive to own an investment, while also increasing the supply of rental properties available for sale. With both the supply of rental properties available for sale increasing and the number of investors decreasing, it could mean some tough situations for many, and not just landlords.
Tenants will also find there are plenty of options, and in the short term many will benefit from the shift in market conditions in their direction. This may be short-lived, as investment in property declines, both the volume of available rental properties will decline and the construction of new dwellings in inner areas may slow even further. Long-term, this could create a perfect storm for harder times ahead for the rental market.
Don't fret too much, it isn't all bad news, although before we shift gears it is worth pointing out one more key driver that is currently off-road: Foreign Students and Investment. There are roughly 250,000 Foreign Students that come to study at world-class universities in inner-Melbourne that are stuck at home.
Unfortunately in recent time, Australia has also not been as inviting to Foreign Investment. For example: the Foreign Purchasers additional stamp duty has increased from 0% before July 2015 to now 8% after July 2019. Based on the current median apartment price in Victoria of $640,000, that equates to an extra $51,200.
The Foreign Investment Review Board reports data on the volume of properties purchased by, unsurprisingly, Foreign Investors. They report that Foreign Investment in established dwellings has decreased 38.3% between the 2018 and 2019 financial years. It is no surprise that as the cost of purchasing property for foreign investors has increased, the demand has substantially decreased. So, with Foreign Students not here to rent properties and reduce the vacancy rates, and one of the key investors in property in Australia disincentivised to buy, where is the shining light? What good news can I bring you from the new rental landscape?
Well, throughout the pandemic Victorians have shown just how agile and resilient we can be. We have found new ways to work, new ways to solve problems and even a way to get rid of a highly infectious disease. Importantly, we have also shown, as we have time and time again, that we love property. While there is a shift to sub-regional areas, there is no doubt that we also still love our city. As a plan is executed for the return of Foreign Students, people get their lives back to some normality and the dust settles, the market will bounce back.
Where better to invest than in a country who has shown they can deal with the virus? What better place to invest in that country than the state with more than one top university, a handle on the virus and the world's most liveable city? Yes, I happen to be mad about Melbourne and if you have ever lived here, you would be mad about Melbourne too. As the pendulum swings back and forth between tenants and rental providers, what can you do to make sure 2021 is as prosperous and stress free as possible? Here are three tips to make sure things run smoothly during tough times.
Reach out
Right now, having a quality tenant who is paying the rent on time is golden, so if you are in this situation, reach out to them. Start by asking if there is anything you can do for them. Get a step ahead and be generous in the first instance, it will set you up for the rest of what 2021 brings. Plus, you will know what the likely outcome is of your current tenancy without having to stress about it.
Budget for anything
Run the numbers again based on all the possible scenarios. Get together with your accountant, agent and other advisors and make sure you know where you stand. Again, better to get a step ahead of any potential loss of income due to a vacancy or even take advantage of the changing market. Whether it is refinancing, dropping the rent, preparing for tough times or selling at the right time, knowing the numbers for your individual situation is critical.
Build the relationship
Earl Long, Governor of Louisiana between 1939 and 1952, once said, "Don't write anything you can phone. Don't phone anything you can talk. Don't talk anything you can whisper. Don't whisper anything you can smile. Don't smile anything you can nod. Don't nod anything you can wink." There are two things I would change in Earl Long's fantastic line (he was actually known to everyone as Uncle Earl). First, I would start with "don't phone anything you can deliver face-to-face" and second, I might modernise it to include text messages, WhatsApp calls and Zooming (but let's not get caught up in the detail). His point is extremely relevant in uncertain times. If you want advice, meet with people. If you need important information, don't just send an email. Whether it is a tenant who is under pressure financially or a Property Manager that is leasing your property, the more we can all do to communicate more effectively, the better. This applies most when disputes arise, in my experience lots of time can be saved by picking up the phone instead of emailing, catching up face-to-face instead of calling, and being kind to one another along the way instead of only looking out for our own interests.
Author: Luke Piccolo